OUTDATED INFORMATION
The information presented on this page, specifically related to Certificates of Authorization, is outdated. A change in Florida statutes in 2019 did away with Certificates of Authorization, replacing them with a free registry. For more information, please see the Engineering Firms page. This article remains online because of Florida Sunshine laws.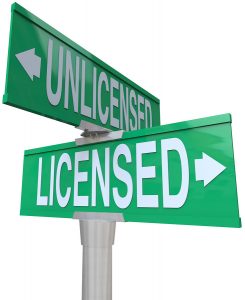 Practicing engineering or offering engineering services without a license is a violation of Chapter 471.003 and 471.031(1)(a), Florida Statutes, and is a serious threat to the health, safety, and welfare of the general public and to the profession itself.
Typically, the Florida Board of Professional Engineers receives cases involving firms practicing without a Certificate of Authorization, individuals using the protected title of Professional Engineer (PE) or any variation thereof, and individuals practicing without a PE license. In most of these cases, the violations occur due to a lack of knowledge of the laws and rules associated with the practice of engineering.
Examples of Unlicensed Activity
A firm practicing or offering to practice engineering without a Certificate of Authorization;
Practicing engineering without a license;
Using a name or title tending to indicate that a person holds an active license as an engineer. Examples include: Professional Engineer, Agricultural Engineer, Air-Conditioning Engineer, Architectural Engineer, Civil Engineer, etc.;
Presenting as his or her own the license of another; or
Practicing with a revoked license, or a null and void license.
The actions taken by the Board related to unlicensed activity violations are a Notice to Cease & Desist, a Citation (which is a fine), or an Administrative Complaint (which can come with a recommended penalty of up to $5,000, injunctive proceedings if the action continues, and criminal prosecutions).
VERIFY AN ENGINEERING LICENSE
To verify a license for a Professional Engineer or the Certificate of Authorization for a company, use the License Search at myfloridalicense.com.
To verify a license for an engineer or a company, use the License Search at myfloridalicense.com.
To file a complaint involving either licensed or unlicensed activity, download a copy of the Uniform Complaint Form located on Complaints page under the Legal section on our website, or request a form from the Board's office.
If you want to talk to someone about a potential violation, please call the Board office at (850) 521-0500, and ask to speak to an investigator.