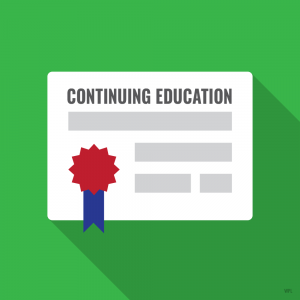 Professional Engineers licensed in Florida must take 18 continuing education (CE) course hours every two years in order to renew their licenses.
Of the 18 hours, one hour must relate to the Florida laws and rules of Professional Engineers from a Board-approved provider, and one hour must relate to professional ethics. Four hours must relate to area of practice. The remaining 12 hours may be related to any topic pertinent to the practice of engineering.
Up to four hours of the continuing education course hours may be obtained by serving as an officer for a Board-recognized professional or technical engineering society. The required hours relating to Florida law and rules, and ethics may also be earned by a PE serving as a member of the Legislature or as an elected state or local official.
Continuing education hours may be earned by presenting or attending seminars, in-house or non-classroom courses, workshops, or professional or technical presentations made at meetings, webinars, conventions, or conferences, including those presented by vendors with specific knowledge related to the licensee's area of practice.
Refer to Section 471.017(3), Florida Statutes, and Rule 61G15-22, F.A.C., for a full description of continuing education requirements for licensed engineers. You can view the statute in its entirety by going to the Statutes and Rules page under the Legal section of our website.