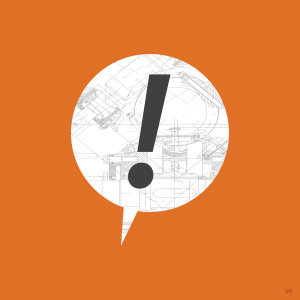 BY SCOTT R. DRURY, PE, FBPE MEMBER
Recently, my wife sent a picture of a t-shirt to me as a joke. The t-shirt read, "I'm an Engineer. To save time, let's just assume that I'm always right."
When I was in engineering school, my mother gave me a sign that said, "Arguing with an Engineer is like wrestling with a pig in the mud; after a while, you realize the pig enjoys it."
I will admit it… I'm an engineer, and I often have opinions about things. Engineers are known for having opinions. And, since engineers tend to be problem-solvers and look at things from a technical perspective, it can be difficult to argue with us. We have "facts" to back up our arguments; these facts may be based on experience, logical conclusion based on limited information, some other bias, or actual facts based on study and analysis.
I will also admit that my opinions are not always correct, and I often make mistakes. That's true of all of us because we are human. We are entitled to our own opinions.
But, if you are a Professional Engineer in Florida, your opinions regarding an engineering subject are a different story.
Yes, you are entitled to have your own opinion, but you have additional responsibility for any opinion on anything related to engineering. Did you know that your engineering license can be disciplined for expressing an opinion publicly about an engineering matter without having all of the facts or being competent to make a sound decision on the particular situation?
Rule 61G15-19.001(6) and (6)(a), Florida Administrative Code, Grounds for Disciplinary Procedures, says:
(6) A professional engineer shall not commit misconduct in the practice of engineering. Misconduct in the practice of engineering as set forth in Section 471.033(1)(g), Florida Statutes, shall include, but not be limited to:

Expressing an opinion publicly on an engineering subject without being informed as to the facts relating thereto and being competent to form a sound opinion thereupon.
As a Professional Engineer, you have specialized training and experience on which the public rely. It is important to realize that the public is entrusting you with their health, safety, and welfare.
How would a lay member of the public know the difference between an opinion based on actual study and analysis and one without, especially when they both sound technical with "engineering" talk?
Most likely, they would not be able to distinguish the difference. And, it would be difficult to have the public trust your fact-based engineering opinions, if they were used to seeing any of your non-fact based engineering opinions.
Unfortunately, there are sometimes tragedies that occur and make local, national, and even international news, such as the collapse of the Florida International University pedestrian bridge in 2018 or the collapse of the Champlain Towers in Surfside this year. These two tragedies occurred in Florida during my short tenure on the Florida Board of Professional Engineers. Both resulted in loss of life, made the national news, and impacted the state overall.
In the wake of these events, you may have seen people posting things on social media about these tragedies, giving what seems to be a technical-sounding engineering opinion for the cause of these structural collapses. You may have even participated in the discussion and gone back and forth about the hows and whys. All the while, you say something about being an engineer or just forget that your profile clearly identifies you as a Professional Engineer.
To be clear, posting an opinion on social media about an engineering subject is expressing a public opinion about an engineering subject. It is the same as if you expressed the same opinion right in front of Board members at an FBPE meeting, which has happened before.
If the opinion you made is engineering-related and is made without being informed of the facts, or if you do not have the expertise in this subject to make a sound opinion, you have committed misconduct in the practice of engineering by Florida law and are subject to discipline.
The Board takes this very seriously and has previously and recently disciplined engineers for committing misconduct in this manner. I urge each of you to remember these rules and the possible repercussions, and to always hold yourself above reproach in the practice of engineering.
If you have any questions or concerns about the laws and rules concerning engineering, please contact FBPE's legal department at (850) 521-0500 or board@fbpe.org.
Scott R. Drury, PE, is a licensed Professional Engineer in Florida with expertise in both mechanical and fire protection engineering, and is a certified Commissioning Authority (CxA), Certified Firestop Inspector, and LEED Accredited Professional (LEED AP BD+C). He is a principal for H2Engineering Inc. with offices in Tallahassee and Gainesville. He began serving on the Board in February 2018 and is currently its vice chair.