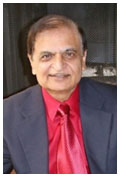 Pankaj (PJ) Shah, PE, was recently appointed to the board for a term beginning May 25, 2017, and ending Oct. 31, 2020.  Mr. Shah has over 46 years of experience in the civil engineering industry, of which the past 24 years include serving as president and owner of a top 25 rated engineering firm in the Tampa Bay area, Cumbey & Fair Inc. His areas of expertise are with design of site engineering for municipal projects and commercial projects including national restaurant chains and large residential neighborhoods across the region. Design disciplines include water source facilities, treatment and distribution systems irrigation/reclaimed water system, natural gas mains, road and stormwater, wastewater collection and disposal systems. He is a licensed Professional Engineer in California and Florida.
Outside of his professional services, Mr. Shah is committed to the industry through his active membership and affiliations with American Water Works Association (AWWA), Florida Engineering Society, Clearwater Chamber of Commerce, CEO Council of Tampa Bay, and former board chair of Adjustment & Appeals for the City of Clearwater.
Mr. Shah received his Bachelor of Science in civil engineering from a recognized university in India, University of Baroda, and his Master of Science in engineering at the University of Oklahoma. In addition to being a passionate Sooners fan, his interests include an active lifestyle with playing golf regularly, following sports and politics, and being a proud "grandpa" fan at baseball games of Oldsmar Little League where his two grandchildren play. Mr. Shah lives in Clearwater with his wife, and is a proud husband, father of three, and grandfather of two.
Babu Varghese, PE, SI, CGC, CCC, has also been reappointed with his term ending Oct. 31, 2020. Mr. Varghese is a licensed Florida Professional Engineer, Special Inspector of threshold buildings, Certified General Contractor, and Certified Roofing Contractor. In addition, he is also licensed in Alabama, Colorado, Louisiana, North Carolina, South Carolina, Virginia, Mississippi, Georgia, Iowa, Missouri, Tennessee, and the U.S. Virgin Islands.
Mr. Varghese is the president and principal engineer of Abtech Engineering Inc., in Fort Lauderdale, which he founded in 1988. His capabilities range from concept through final design on numerous commercial and industrial buildings. Additionally, his experience includes a focus on forensic engineering where he has appeared in court as an expert witness on numerous cases. Mr. Varghese holds Bachelor and Master of Science degrees in engineering.