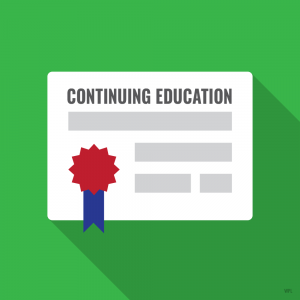 BY Art Nordlinger, PE
Many Professional Engineers are licensed in multiple states, each of which has its own continuing education requirements. Additionally, each state has its own rules regarding what qualifies as acceptable continuing education courses.
A number of services are available to PEs to help keep track of the continuing education requirements for each state in which they are registered, and how those match up with courses that have been taken. This allows the engineer to confirm they have the required hours for each state at renewal time.
Here are two examples of services available for tracking continuing education, one of which has features beyond tracking continuing education.
NCEES CPC Tracking
The National Council of Examiners for Engineering and Surveying (the folks that provide all of the engineering licensure exams) offer a free service to track your continuing education. More information can be found on the NCEES CPC Tracking webpage.
The service allows an engineer to:
Select the appropriate state licensing boards and enter renewal period information for each.
Add the course information and corresponding continuing education hours (CEH). Supporting documentation can be uploaded to your account, and the course and CEHs will be applied to the appropriate states.
Track your progress by viewing a side-by-side comparison of the state's requirements and your completed CPC courses.
Transmit your CPC transcript electronically to a state licensing board.
Renew Central
The Florida Board of Professional Engineers recently announced a partnership with Renew Central. Though Renew Central started by initially providing their services in Florida, they say they are expanding to other states.
Different than the NCEES product, Renew Central also allows continuing education providers to list their courses, allowing engineers to use that as a source of information on available courses that satisfy a state's CE requirements. It also allows engineers to rate those courses.
Renew Central offers several levels of service, the most basic of which is free, with more comprehensive services provided for a fee. There is no obligation for Florida PEs or continuing education providers to use Renew Central's services. Additional information can be found on the Renew Central website.
Their services include:
Self-Reporting and Transcripts;
Requirements Tracker;
Course Directory; and
Premier Personal Renewal Advisor.
Now retired, Art Nordlinger, PE, was most recently the manager, transmission tariff and contracts for Tampa Electric Co. He was appointed a corporate director for the Florida Engineers Management Corporation in 2018, and is serving as chair.