OUTDATED INFORMATION
The information presented on this page, specifically related to Certificates of Authorization, is outdated. A change in Florida statutes in 2019 did away with Certificates of Authorization, replacing them with a free registry. For more information, please see the Engineering Firms page. This article remains online because of Florida Sunshine laws.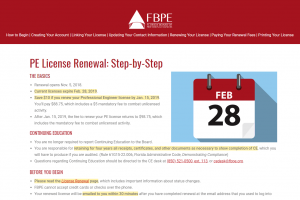 A major change is coming with this licensure renewal cycle. Professional Engineer licenses and Certificates of Authorization will no longer be mailed. PEs must log into their account at myfloridalicense.com and print their license and CA from there.
The change provides PEs with access to their updated license shortly after the renewal process is complete and renewal fees have been paid. Your license will be emailed to you in about 30 minutes; you will no longer have to wait four to six weeks for your license to be delivered.
To help you with this change, FBPE provides a step-by-step guide on its website that will walk you through the process of renewing and printing your Professional Engineers license (or Certificate of Authorization).
Our one-page guide, PE License Renewal: Step-by-Step, shows each step of renewal, from creating or updating your account to renewal options and paying your fees to printing your license. A brief introduction will provide you with pertinent information you need before you begin. We will keep the instruction page updated as necessary throughout renewal.
You may want to keep the guide open in a separate browser window as you go through the renewal process at myfloridalicense.com.
If you have any questions during the process, please call the Board office at (850) 521-0500 and select "Renewal" to speak to a representative during regular business hours.