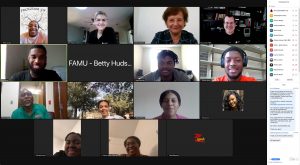 FBPE's outreach to prospective Professional Engineers took a different approach than in previous years, due to the COVID-19 pandemic.
When universities turned to online classes and employers issued work-from-home orders to halt the spread of the coronavirus, FBPE's outreach efforts adjusted to meet those new challenges.
As in typical years, FBPE Executive Director Zana Raybon discussed the steps to becoming a licensed Professional Engineer in Florida, and answered questions from students and others. But this year, those presentations were virtual.
In fall 2020, staff participated in virtual presentations to engineering students at the Florida State University Panama City, the Florida A&M University-FSU College of Engineering, and the University of West Florida. For spring 2021, similar presentations were made to engineering students at the FAMU-FSU College of Engineering, UWF, and the FAMU Biological Systems Engineering club.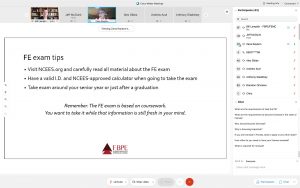 Over 1,100 students at the University of Central Florida viewed a pre-recorded presentation by Raybon, which was posted for them on YouTube. Engineering students at the University of Florida were also provided with the video's link after their virtual presentation had to be canceled.
Information that would otherwise have been handed out to students on USB drives was posted on a new Student Resources page on the FBPE website. That information includes links to pertinent areas of the FBPE website and the NCEES website, a PDF of the "Becoming a PE" presentation slides, a link to NCEES videos included in the presentation, and links to FBPE's social media pages.
As vaccinations rates increase and COVID-19 cases continue to decrease, FBPE is returning to in-person visits when appropriate. In late June, FBPE staff returned to Kimley-Horn offices in Orlando to discuss licensure with engineer interns working there.
FBPE staff are available to meet in person or virtually with your engineering class, organization, or business to discuss steps to becoming a licensed PE in Florida. Please contact Bill Lampkin at wlampkin@fbpe.org.