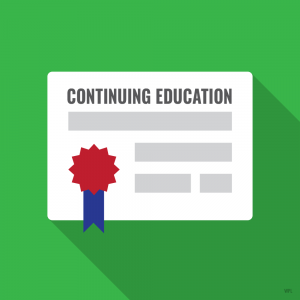 Professional Engineers licensed in Florida must complete their 18 hours of continuing education by the end of the current licensure period, which is Feb. 28, 2021.
The Florida Board of Professional Engineers has discussed and does not plan to allow a delay or exemption to CE requirements because of the COVID-19 pandemic.
The window for earning CE credits opened March 1, 2019 — 13 months prior to Gov. Ron DeSantis issuing a stay-at-home order on April 1, 2020. CE courses continue to be offered online. In addition, with the cancellation of physical conferences, many professional or technical organizations have been holding virtual sessions, which can be attended online and offer CE credits.
Florida-licensed PEs must take 18 hours of continuing education every two years in order to renew their licenses.
Of the 18 hours, one hour must relate to the Florida laws and rules of Professional Engineers from a Board-approved provider, and one hour must relate to professional ethics. Four hours must relate to area of practice. The remaining 12 hours may be related to any topic pertinent to the practice of engineering.
PEs must attest to completing the required 18 hours of continuing education during their renewal process. In addition, if you select "make an online payment" during the renewal process and do not attest to completing your continuing education, your PE license will fail to renew.
After the renewal period ends on Feb. 28, 2021, FBPE will conduct an audit of 3 percent of randomly selected licensees. In addition, any licensee who failed the previous CE audit will be audited again for compliance.
See Section 471.017(3), Florida Statutes, and Rule 61G15-22, Florida Administrative Code, for a full description of continuing education requirements for licensed engineers. You can view these documents by going to the Statutes and Rules page under the Legal section of our website.
Remember, continuing education must be completed by Feb. 28, 2021.