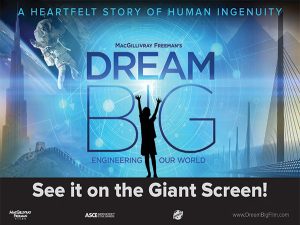 Who will build the amazing future of our human race? That question sparks a giant-screen adventure unlike any other in DREAM BIG: Engineering Our World, an epically fun tour of inspiration through the visionary advances made by yesterday's, today's – and most thrillingly of all, tomorrow's – engineers.
On Friday, Feb. 17, 2017, the first ever IMAX® movie answering the call of the STEM (Science, Technology, Engineering, Math) initiative, DREAM BIG: Engineering Our World, will premiere in IMAX® and giant-screen theatres across the world.
DREAM BIG: Engineering Our World produced by MacGillivray Freeman Films, in partnership with the American Society of Civil Engineers, and presented by Bechtel Corp., offers a fresh perspective on engineering and aims to inspire kids with diverse backgrounds to become innovators, educators, and leaders who will improve the lives of people across our entire planet throughout the 21st century.
Narrated by Academy Award winner, Jeff Bridges, this is a story that reveals how engineers have changed both everyday lives and entire societies: from the Roman Arch to the Great Wall of China, from one much-needed village bridge to the cosmic International Space Station, from underwater robots to death-defying rollercoasters, wind-defying skyscrapers, and pneumatic tube vehicles that might one day zoom at 700 MPH. The journey spans the globe because engineering is truly a universally shared need – from China and Nepal to Dubai, Australia, and Haiti back to Seattle, San Francisco and Phoenix, Ariz., following a group of engineers from diverse backgrounds, each excited to ask in their own way: "What cool solutions can we come up with next?"
How We Are Getting Involved in Tallahassee
On Monday, Feb. 20, 2017, please join the Tallahassee American Society of Civil Engineers, FAMU-FSU College of Engineering, the Florida Board of Professional Engineers, the Florida Engineering Society, and the Challenger Learning Center in an evening of fundraising to inspire local K-12 students to DREAM BIG and explore the world of engineering.
The night includes a networking hour complete with hors d'ourves and cash bar and a private viewing of MacGillvray Freeman's DREAM BIG: Engineering Our World IMAX® movie. Tickets are $15 for adults and $5 for children under 12. All proceeds from the evening will support local K-12 engineering outreach.
Event Details & Registration
Monday, Feb. 20, 2017
Challenger Learning Center
200 South Duval St.
Tallahassee, FL 32301
6PM-7PM Networking Hour
7PM-8PM Dream Big Viewing
For more information about DREAM BIG: Engineering Our World; view video excerpts from the movie;  learn about the projects and locations where the movie was filmed; access educator resources and student activities go to the website at http://www.dreambigfilm.com/.
To view the listing of local theatres in your area showcasing the DREAM BIG: Engineering Our World film, go to http://www.dreambigfilm.com/theatres/.