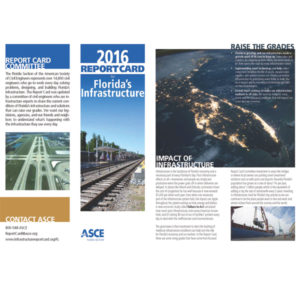 The Florida Section of the American Society of Civil Engineers (ASCE) released its 2016 Report Card for Florida's Infrastructure, grading 11 categories of the state's infrastructure, resulting in an overall grade point average of "C."
A team of professional engineers from across Florida assessed the 11 categories, including: Aviation (B-), Bridges (B), Coastal Areas (D+), Drinking Water (C+), Energy (C-), Ports (B-), Roads (C), Schools (D+), Stormwater (D), Transit (C), and Wastewater (C).
The last Report Card for Florida's Infrastructure, released in 2012, gave the state's infrastructure a GPA of "C-".  The Grading Scale is as follows:
A – Exceptional
B – Good
C – Mediocre
D – Poor
F – Fail
Over the past 5 years, Florida's population has grown at a rate of about 1% per year, adding about 1 million people. This is the equivalent to adding a city the size of Jacksonville every 5 years and makes Florida the fourth fastest growing state in the nation.
The 2016 Report Card for Florida's Infrastructure finds that much of the state's infrastructure needs investment and upgrades to keep up with the state's growing population. Of note:
As a top destination, more than 50% of Florida's commercial airports will experience demand levels that will surpass their operational capacity over the next 15 years.
About 15% of Florida's bridges are at least 50 years old.
Florida's average daily freshwater demand (including drinking water) is projected to increase by about 20% to 7.7 billion gallons per day by 2030.
Seven of the top 100 most congested cities in the U.S. are in Florida, costing drivers $8.75 billion in 2014.
Florida's capital improvement needs for stormwater management are estimated to be $1.1 billion through 2019, with needs doubling over the decade, yet utility fees to upkeep the systems have declined since 2011.
Given these infrastructure challenges, the Florida Section of the American Society of Civil Engineers urges a number of recommendations to raise the grades, including:
Growing Florida's infrastructure investment by county, city, state and private entities to keep up with the growth of the state.
Implementing smart technology and asset management strategies to help reduce congestion, lengthen the life of assets, expand water supplies, and optimize power use.
Continuing to make Florida's infrastructure resilient to all risks, including storms and changing climate conditions that will impact Florida's coast and economy.
The Report Card for Florida's Infrastructure was created as a public service to the citizens and policymakers of the state to inform them of the infrastructure needs in their community. By using school report card letter grades, civil engineers use their expertise to condense complicated data into an easy-to-understand analysis. Now that the report card has been updated, a copy can be found on the ASCE Florida Section website, www.fla-asce.org.
ASCE State Infrastructure Report Cards are modeled after the national Report Card for America's Infrastructure, which gave America's infrastructure a grade of D+ in 2013. To view the national report card, go to http://www.infrastructurereportcard.org/.