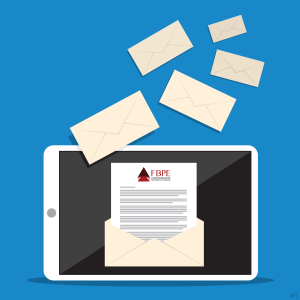 The Florida Board of Professional Engineers regularly sends out announcements, updates, and newsletters via email. With licensure renewal beginning later this year, it's vitally important that Professional Engineers and engineering firms are receiving FBPE emails.
There are always a number of emails sent out by FBPE that get flagged as spam by the email systems of PEs or engineering firms. When that happens, PEs don't see important information they need.
To make sure you are receiving FBPE updates, list FBPE as a "Safe Sender" in your email system (and don't forget to keep your contact information updated).
Take a few minutes to add Florida Board of Professional Engineers, FBPE, and webmaster@fbpe.org to your email system's whitelist, or "Safe Senders List," to prevent FBPE emails from being erroneously flagged as spam.
Constant Contact has step-by-step instructions on adding an address to your email provider's whitelist. You may need to ask your systems administrator for help if you don't have access to the list.
Please keep in mind, too, that if you have unsubscribed from FBPE emails and newsletters sent via Constant Contact, you will no longer receive important notices from the Board, such as information and reminders about licensure renewal. Please visit the FBPE Email Subscription page to re-authorize FBPE to send you email.
Unsolicited email is an ongoing headache, but efforts to stem its flow can cause you or your PEs to miss vital information from FBPE. Take steps now to ensure you continue receiving updates from FBPE.
If you aren't yet receiving emails from FBPE but would like to, sign up today to get FBPE news and updates sent to your inbox.