OUTDATED INFORMATION
The information presented on this page, specifically related to Certificates of Authorization, is outdated. A change in Florida statutes in 2019 did away with Certificates of Authorization, replacing them with a free registry. For more information, please see the Engineering Firms page. This article remains online because of Florida Sunshine laws.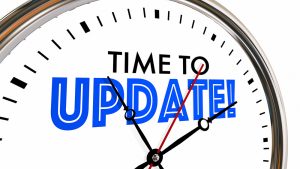 With each newsletter email distribution, new license mailing, or renewal reminder campaign, FBPE receives a number of returned communications due to bad email addresses, invalid mailing addresses, lack of forwarding information, etc.
If you aren't keeping your contact information updated, you jeopardize receiving important information regarding policy/law changes, deadline notifications, receipt of certificate replacements, and much more.
Licensure renewal opens in November 2018, so there is no time like the present to remind Professional Engineers and Certificate of Authorization holders about the importance of keeping their licensure records current.
As a Professional Engineer or a Certificate of Authorization holder, it is your responsibility to keep your licensure records updated. This includes information such as name, mailing address, email address, or name of the PE in responsible charge for a firm.
This information should be provided within 30 days of when the change occurs to ensure proper delivery of licensure correspondence and uninterrupted Board service. We also encourage licensees to provide the most current email address since we routinely provide special notices, information, and the quarterly newsletter electronically.
Please keep in mind, too, that if you have unsubscribed from FBPE emails and newsletters sent via Constant Contact, you will no longer receive important notices from the Board, such as information and reminders about licensure renewal. Please visit the FBPE Email Subscription page to re-authorize FBPE to send you email.
For Engineers
A licensee can make changes to their licensure records via two methods: by submitting changes through DBPR's online portal, or by submitting a request to FBPE to have your records updated.
You can access your account by going to myfloridalicense.com and selecting Licensee Login (at the top right of the page). Should you receive a message, such as "this account is linked to another email" or "enter an activation code," while trying to access your account and you need assistance, please contact the Board office at (850) 521-0500 and select the option to speak to someone in FBPE's Licensure department.
To submit your changes to FBPE, select the Change Contact Information page under the Licensure section and complete the online form. You can submit changes to your mailing address, phone number, or email address using this form.
If you experience problems using either of these methods, email board@fbpe.org with your change request. Note: When emailing FBPE with your request to update your records with new information, you must include your full name, license number, old and new addresses, phone number, and email address.
For those individuals needing to change their name or obtain a new copy of their license, you must submit a copy of a marriage certificate, divorce decree, or court order, along with the Order Form for Duplicate Licenses and Certificates and the relevant fee. The order form can be found on the Other Forms page under the Licensure section.
Additional forms, such as requests to change active/inactive license status, to retire a license, and to verify licensure, are located on the Other Forms page in the Licensure section. If you have any questions, please contact the Board's office at (850) 521-0500.
For Certificate of Authorization Holders
Per Section, 471.023, Florida Statutes, Certification of Business Organizations, should a company's qualifying engineer change, it is the company's responsibility to submit a Certificate of Authorization (Change of Engineer) application, along with the relevant fee, to FBPE within 30 days to request a new qualifying engineer. If the qualifying engineer no longer wishes to qualify a company, it is the engineer's responsibility to advise FBPE in writing of his/her desire to no longer act as qualifying engineer for the company.
If a company changes its name, it is the company's responsibility to submit a Certificate of Authorization (Change of Company Name) application, along with the relevant fee, proof of registration, and other accompanying documentation, to FBPE within 30 days.
These forms are located on this website by selecting Application Process under the Licensure section and then Certificate of Authorization. Should you have any questions regarding the application forms, the process of applying for a CA, or changing the qualifier or company name, please contact the FBPE office at (850) 521-0500.