In order to become licensed as a professional engineer in the State of Florida, successful completion of two (2) examinations is required: the NCEES Fundamentals of Engineering (FE) exam and the NCEES Principles and Practice (PE) exam.
NCEES FUNDAMENTALS OF ENGINEERING (FE) EXAM
The FE exam, which is developed and administered by the National Council of Examiners for Engineering and Surveying (NCEES), is generally taken during the applicant's final year of a four-year EAC/ABET engineering program or immediately after graduation.
No engineering experience is required. However, in order to qualify for an Engineer Intern (EI) Certificate, evidence of appropriate education is required and described below.
The NCEES Fundamentals of Engineering exam is a computer-based (CBT) exam administered year-round in testing windows at NCEES-approved Pearson VUE Centers, and is offered in seven disciplines as a 110 multiple choice test.
Specific details about the FE exam and the application process can be found on the Fundamentals Examination page under the Licensure section of our website.
FE EXAM REGISTRATION INFORMATION
A candidate seeking to take the FE CBT Exam has two options for registration: direct registration with NCEES, or pre-approval with FBPE. Please carefully read the registration option details below. The State of Florida requires specific education requirements to obtain Engineer Intern certification or Professional Engineer licensure regardless of what registration option is selected.
We encourage you to contact the Board office at (850) 521-0500 regarding these requirements prior to registering for the FE exam or applying for the PE exam should you have any questions.
OPTION 1 – DIRECT REGISTRATION WITH NCEES – FE EXAM ONLY
A candidate can register directly with NCEES to sit for the FE exam by creating a MyNCEES account. Once the account is created the candidate can register and pay the $225 exam fee. Once registration is approved, the candidate will be notified and authorized to schedule the exam appointment at a NCEES approved Pearson Vue Testing Center. Candidates will receive their exam results directly from NCEES.
If the candidate wishes to apply for certification as an Engineer Intern (EI) in Florida and has directly registered with NCEES, the FE Endorsement Application must be completed and submitted to FBPE for approval. Once the application has been paid in full, processed and approved, an EI certification will be issued to the candidate. The fee for applying by endorsement is $100.
OPTION 2 – FE EXAM APPLICATION/REGISTRATION WITH FBPE
A candidate can also apply with FBPE prior to registering for the FE exam with NCEES. A candidate seeking professional licensure in Florida, who wants to ensure that he or she has met the education requirements to qualify as an Engineer Intern, should complete the FE Initial Examination Application, and submit the fee of $30 to FBPE. Once the application has been reviewed and approved by FBPE, the candidate can then register with NCEES for the examination.
The registration process with NCEES is the same as stated above. The candidate must create a MyNCEES account to register, pay the $225 exam fee, and choose the exam date and location that best suits their schedule from one of the exam windows. Once the exam has been completed the grades will be reported to the candidate and to the Board. When the Board receives notification of the passing candidates, EI certificates are issued and mailed to the recipient.
If the candidate fails to achieve a passing score, he or she must either re-register directly with NCEES (if this option was taken) or submit a re-exam application to FBPE for approval to schedule another attempt to take the exam. NOTE: Only one attempt to take the exam can be made within an exam window.
NCEES PRINCIPLES AND PRACTICE (PE) EXAM
The eligibility qualifications to apply and sit for the NCEES PE exam, are successful completion of the FE exam (described above) and four (4) years of verifiable engineering experience. Refer to Rule 61G15-20.002 F.A.C., for specific details about what qualifies as acceptable work experience.
In addition, a PE licensed in another state may endorse his or her license by application. For more information about licensure by endorsement (comity or reciprocity) go to the Endorsement page under the Licensure section of our website.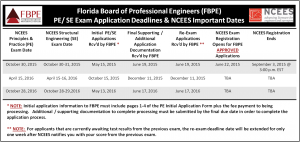 EDUCATION
Chapter 471, Florida Statutes, and Rule 61G15-20.006, F.A.C., requires applicants to have an EAC/ABET accredited Bachelor of Science degree in engineering.
Technology degrees earned outside of Florida are not acceptable for licensure in Florida. For technology degrees, Chapter 471.013(1)(a)2., F.S., states:
"A person shall be entitled to take an examination . . . if the person . . .

Is a graduate of an approved engineering technology curriculum of 4 years or more in a school, college, or university within the State University System, having been enrolled or having graduated prior to July 1, 1979, and has a record of 4 years of active engineering experience of a character indicating competence to be in responsible charge of engineering. Technology degrees alone, without being coupled with a master's degree in engineering, that were earned in another state or were earned in Florida after July 1, 1979 will not be acceptable for licensure."
Foreign degrees and non-EAC/ABET engineering degree holders are required to obtain an evaluation from a Florida approved evaluation company to demonstrate the applicant's education is substantially equivalent to an EAC/ABET accredited degree.
Applicants who do not hold a bachelors' of science degree in engineering are required to show proof of an advanced degree in engineering and are required to obtain an evaluation of both degrees to demonstrate substantial equivalency to the EAC/ABET engineering degree requirement.
Florida has approved two companies to perform these evaluations: 
Josef Silny & Associates, Inc.

International Education Consultants

7101 SW 102 Avenue | Miami, FL 33173

T: (305) 273-1616

F: (305) 273-1338

NCEES Credentials Evaluations

P.O. 1686 | Clemson, SC 29633

Toll Free: (800) 250-3196

T: (864) 654-6824

F: (864) 654-6033
EXPERIENCE
The FE applicant is eligible to apply for the FE exam during their undergraduate senior year studies. The exam is usually taken prior to or just after graduation with a bachelor of science degree in engineering. A letter of good standing from the school showing a graduation date of less than a year or the final transcripts following graduation is required when submitting the FE exam application.
The PE applicant must demonstrate four (4) years of verified engineering experience and a passing grade on the FE examination to be eligible to apply for the PE exam. Refer to Rule 61G15-20.002 F.A.C., for specific details about what qualifies as acceptable work experience.
Full-time engineering work experience obtained within two (2) years of completing the engineering degree can be awarded at 50% of actual time, not to exceed a maximum 12 months of experience prior to graduation.
Advanced degrees in engineering obtained as a full time student can count for 12 months equivalent experience. This is further explained in Rule 61G15-20.002(2), F.A.C. Foreign experience can be counted and verified in the same manner as provided in the application for experience.