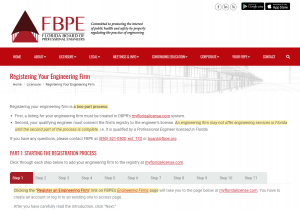 BY ZANA RAYBON, FBPE EXECUTIVE DIRECTOR & FEMC PRESIDENT
Our October 2019 newsletter is going out later than usual this quarter. Changes from House Bill 827, which Gov. DeSantis signed into law in June, went into effect on Tuesday, Oct. 1, and we wanted to make sure they rolled out as smoothly as possible.
Extensive updates to the FBPE website were needed to explain:
New education requirements that allow those with Bachelor of Science degrees in engineering technology from ETAC-ABET-accredited programs to pursue licensure;
Decoupling of the PE exam from required engineering experience;
Adding engineering experience requirements for engineering technology graduates;
Changes involving how registration for the FE and PE exams is now directly with NCEES;
How to register and qualify an engineering firm now that Certificates of Authorization have been eliminated; and
New applications for licensure, which now include the ability to reinstate a null-and-void PE license.
Refer to my July 2019 column for a closer look at the changes brought about by HB 827.
The Licensure section of FBPE's website needed the most updating. In fact, we threw out the old pages regarding applying for the Fundamentals of Engineering exam, the Principles & Practice of Engineering exam, NCEES exam information, licensure options, and Certificates of Authorization, and started from scratch.
Leading off the revised section is the Licensure Process page, which provides an overview of the three E's required for obtaining a Professional Engineer license in Florida: education, examinations, and experience. This page also includes links to education evaluation providers, for those who don't have an engineering or engineering technology degree from an ABET-accredited program, or have a foreign degree.
Next up is the Engineering Exams page. There are separate sections for the FE and the PE exams. Since you no longer apply with FBPE to take either exam, there is information on registering directly with the National Council of Examiners for Engineering and Surveying (NCEES), which administers both exams.
The Engineer Interns page has a link to the Application for Engineer Intern Certification, information on fees, and a set of commonly asked questions about the application. Similarly, the Professional Engineers page lists requirements that have to be met before you can apply for licensure in Florida, a link to the Application for Licensure as Professional Engineer, and commonly asked questions about the application. This page also includes applications for adding an additional PE discipline or for temporary licensure in Florida.
The Engineering Firms page explains the new registry of qualified business organizations that replaces the old Certificates of Authorization, and the essential requirements for maintaining the ability to provide engineering services in Florida. There's a link to the registration page at myfloridalicense.com. Along the right side of the page are links to a couple of instructional pages. The first page gives step-by-step instructions for registering your engineering business and qualifying it with a Professional Engineer who is licensed in Florida. Another step-by-step guide shows how to remove a qualifying engineer for a firm.
These are a lot of changes, not just to our website, but to the practice of engineering in Florida. If you have any questions regarding the changes, please contact us at board@fbpe.org or (850) 521-0500. We would be happy to help.