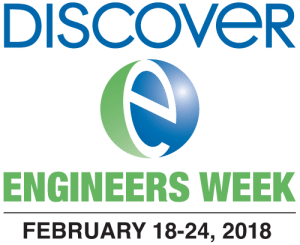 UPDATED: Florida's colleges of engineering will celebrate the practice of engineering and educate the public about the many ways engineers make a difference in our world during Engineers Week, Feb. 18-24, 2018.
Feb. 22 brings a special focus on women. On that Thursday, Introduce a Girl to Engineering Day encourages young women to pursue careers in engineering.
The week-long celebration began in 1951. The National Society of Professional Engineers timed the event to coincide with the anniversary of the birth of President George Washington, who, in addition to being the nation's first president, is considered its first engineer. (Washington's birthday is Feb. 22.) Today, DiscoverE, formerly the National Engineers Week Foundation, spearheads the annual event.
Some colleges of engineering have extensive programming planned for Engineers Week, while others may have only a few events.
It's still a bit early for many of the colleges to have finalized schedules, so check back. We will be updating this article with links and information as we receive it.
Here's a sampling of what is in store around Florida for Engineers Week and Girl Day 2018.
FAMU-FSU College of Engineering
The FAMU-FSU College of Engineering's Society of Women Engineers will be visiting Tallahassee-area schools during Engineers Week to conduct hands-on activities to promote engineering to female students. The college is encouraging its male students to wear red in support of its female engineering students. The college is working on another event to celebrate the week.
Florida Atlantic University
The schedule at FAU's College of Engineering and Computer Science is tentative. Here are some highlights:
Monday, Feb. 19
The Amazing Engineering Race: Groups of students complete engineering challenges as they race around campus to the finish.
Kick-off Event: Celebrate Engineers Week with food stations, music from a student DJ, student organization information tables, and many other displays and demonstrations.
Tuesday, Feb. 20
Duct Tape Dynasty: Teams of students duct tape members of the College of Engineering and Computer Sciences faculty to a wall, with the team whose professor stays up the longest winning.
Lunch and Learn: Civil Engineering & Hurricanes: Dr. Fred Bloetscher discusses hurricanes and how they relate to civil engineering.
How It's Made: Computer-aided-design puzzle competition
Wednesday, Feb. 21
SAE Balloon-Powered Car Challenge: Prizes will be awarded for distance traveled, speed, straight line, and design.
Lunch and Learn: Solar Energy Post-Hurricanes: Dr. Amir Abtahi discusses turning hurricane debris into energy.
Engineering West lab tours
FAU Career Fair
Human Powered Submarine "Build a Boat" Competition: Student teams will race to build a boat — using gallon zip-close bags, duct tape, and a PVC pipe — that can cross a pool without the use of passengers' hands or feet. Prizes will be awarded for speed, design, and best costume.
Thursday, Feb. 22
A Day in the Life: Coding Blind: Dr. Shihong Huang will lead a discussion, then a blind coding competition.
Lunch and Learn: "Coding for a Cause": An information session about the community outreach program
Engineering East lab tours
Egg Drop Competition, hosted by Tau Beta Pi, the engineering honors society
Friday, Feb. 23
Graduate Student Three-Minute Thesis Competition
Engineers Got Talent & Engineers Week Awards: A talent show, with judges' choice and people's choice awards; presentation of Engineers Week awards
Florida International University
The Engineering Expo at FIU's College of Engineering & Computing will be Friday, Feb. 23. It typically attracts more than 1,400 K-12 students from area schools.
The five-hour event features tours of the college's labs, contests, presentations, and hands-on projects.
University of Central Florida
UCF's College of Engineering and Computer Science has its Engineers' Fair planned for Wednesday, Feb. 21. Student organizations host a variety of interactive activities and demonstrations throughout the college's engineering buildings. Local schools attend, as do a variety of industry representatives.
University of North Florida
Plans for E-Week at UNF's College of Computing, Engineering, & Construction are also still in the works.
UNF will host the presentations and judging for the first phase of the Jacksonville 2050 High School Civil Engineering Competition during Engineers Week. Students from high schools in Duval, Nassau, Clay and St. Johns counties, with support from local engineering firms and engineering societies, will be competing to design a skyscraper for downtown Jacksonville.
University of South Florida
USF's College of Engineering kicks off Engineers Week a bit early with its annual Engineering Expo on Friday and Saturday, Feb. 16 and 17.
The expo is free, and while it targets kindergarten through 12th-grade students, all ages are welcome. Its goal is to highlight the importance of STEM and give attendees an opportunity to talk with Tampa Bay engineers and USF engineering student organizations. The expo features interactive, educational shows and hands-on exhibits.