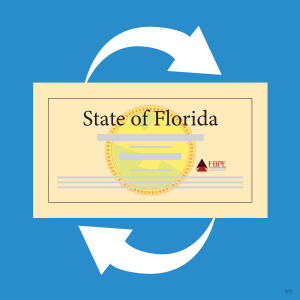 Online license renewal is officially open in Florida for the 2021-2023 biennium.
All current/active Florida Professional Engineer licenses will expire on Feb. 28, 2021. All delinquent Florida Professional Engineer licenses will go null and void on Feb. 28, 2021.
If you renew your PE license by Jan. 15, 2021, you can save $10, paying only $88.75. After that date, the standard renewal fee of $98.75 will apply.
Create or update your online license account at myfloridalicense.com.
You must complete 18 hours of continuing education prior to Feb. 28, 2021, including one hour must relate to the Florida laws and rules from a Board-approved provider, one hour of professional ethics, and four hours related to your area of practice, and 12 hours related to any topic pertinent to the practice of engineering.
PE licenses are no longer being mailed. You will be emailed a PDF of your license, which can be printed, after you have renewed it. We have step-by-step Instructions for requesting a PDF of your license.
Please be aware that the Department of Business and Professional Regulation's myfloridalicense.com portal experienced malicious activity in October. DBPR has been working to restore all functionality to its systems. As a result, you may run into any problems, please be patient and try again later. If the problems persist, please contact FBPE at renewal@fbpe.org.
You can find more information and step-by-step renewal instructions on our website.