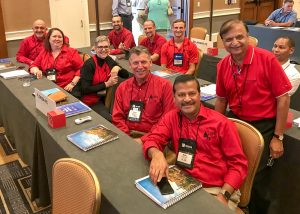 BY ZANA RAYBON, FBPE EXECUTIVE DIRECTOR & FEMC PRESIDENT
The NCEES 2018 Annual Meeting was held in Scottsdale, Ariz., from Aug. 15-18. Representing the Florida Board of Professional Engineers were Board members Pankaj (PJ) Shah, PE, Dylan Albergo, PE, Scott Drury, PE, Walid Sobh, PE, Babu Varghese, PE, SI, Vice Chair Kevin Fleming, PE, Executive Director Zana Raybon, Assistant Executive Director Rebecca Sammons, and Board Counsel Lawrence Harris, Esq.
Along with saying goodbye to long-time NCEES CEO Jerry Carter, the council members spent four days participating in business sessions, reviewing officer and committee reports, and attending zone and practice sessions. Jerry, who will retire in October after 17 years with NCEES, will be replaced by David Cox, former executive director of the Kentucky Board of Professional Engineers and Land Surveyors. Although Jerry will be missed, David brings to the position a tremendous amount experience as both a leader of a state board and an active participant on NCEES committees for many years.
Some of the items considered during the business and zone sessions included approving a $3-million contribution, over a three-year period, to Engineers Without Borders; changing the term of the NCEES treasurer to a three-year term; a decision to discontinue offering the PE software exam; and lengthy discussions about the continued threat to professional licensure and regulation. It was also reported that there has been marked increase in exam administrations for both the FE and the PE exams.
Each year, NCEES offers a law enforcement forum that is an interactive program for investigators, attorneys, board members, and member board administrators interested in learning about and sharing experience in enforcement. This year, FBPE Investigator Jeanne Jones attended the forum where participants took part in a roundtable discussion of enforcement topics and joined in a presentation by the Council on Licensure, Enforcement, and Regulation, titled "Communication and the Art of Persuasion," and the National Certified Investigator and Inspector Training "Basic Interviewing Techniques." The forum also covered enforcement resources that are available on the NCEES website.
As always, FBPE was well represented by the Board members in attendance, and the annual meeting provided an opportunity to stay informed on engineering matters in other states that may affect professionals in Florida.
The NCEES 2019 Annual Meeting will be held in Washington, D.C., next August, and the Southern Zone Interim Meeting will be held jointly with the Western Zone in Boise, Idaho, in May.