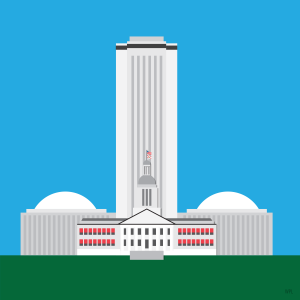 BY ZANA RAYBON, FBPE EXECUTIVE DIRECTOR & FEMC PRESIDENT
The 2022 Florida Legislative Session ended on Friday, March 11, with one bill of interest to Professional Engineers being passed by both houses.
HB 375, titled Structural Engineering Recognition Program for Professional Engineers, was enrolled on March 4, and is awaiting the governor's signature.
This legislation establishes the Structural Engineering Recognition Program for Professional Engineers and requires the Board of Professional Engineers to recognize licensed Professional Engineers who have passed specified examinations. The new statute provides that application must be made to the Board with no fee assessed for such application. Engineers who have met the requirements of the Recognition Program will be authorized to identify such recognition in their professional practice, as well as in marketing and advertising materials. It is important to note that this new statute is not a title act and, therefore, recognition by the program is not required to practice structural engineering or use the title structural engineer.
The FBPE Rules Committee has already met to discuss preliminary rulemaking for this statute, 471.055, Florida Statutes, which if signed will go into effect on July 1, 2022.
Legislation that did not pass and leaves the state's uneven condominium inspections laws in place was HB 7069, titled Condominium and Cooperative Associations.  The House proposal would have required condominium associations to conduct reserve studies every decade to make sure they have the resources to finance needed structural improvements. They also would have also been barred from waiving a requirement that they put money in reserve to make structural improvements, although they could continue to waive collecting reserve funds for other improvements.
The bill would have also required that condos be recertified after 30 years if they are three stories or higher or are 25 years old, and within three miles of the coast. They would have to recertified every 10 years after that.
Under the Senate version, if a condo was within three miles of coastline and was 20 years old by July 1, 2022, it would have had to undergo a "milestone" inspection, by a Florida-licensed architect or engineer, of the structural components of the building to determine its general safety. Subsequent inspections would have been required every seven years. For all other condos, the inspection would have been required by January 2025 if a building's certificate of occupancy was issued on or before July 1, 1992, and every 10 years thereafter.
Because there are an estimated 2 million people living in more than 912,000 condominium units that are 30 years old or older, legislators hoped to encourage condominium associations to be intentional in repairs and stave off structural issues, in the interest of public safety.
Under current law, only Miami-Dade and Broward counties and several cities require regular structural inspections of condos. The proposed legislation would have expanded that.
It is expected that this proposed legislation will return next year.