BY ZANA RAYBON, FBPE EXECUTIVE DIRECTOR & FEMC PRESIDENT
This is one of the busiest times of the year for FBPE staff. We have just finished renewal and are gearing up to conduct a random audit of licensee's continuing education. If you did not receive an audit notice during the previous renewal period, be on the lookout. You may be one of the lucky engineers who gets to respond to our request to submit your continuing education certificates.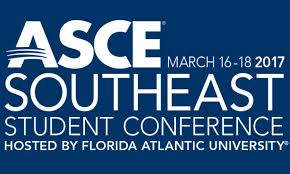 As we near the end of the school semester, FBPE is busy with outreach opportunities as well. We recently attended the ASCE Southeast Student Conference at Florida Atlantic University in Boca Raton, where we watched approximately 27 schools from across the southeast United States, as well as a guest school from China, compete in such areas as the steel bridge and concrete canoe competitions. See the pictures below of UF students loading their steel bridge (they came in first!) and also FAMU-FSU's concrete canoe. Students are also judged on the display for the concrete canoes. For more great photos and the competition results, go to: http://public.eng.fau.edu/design/asce2017/.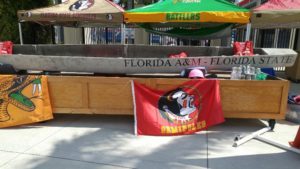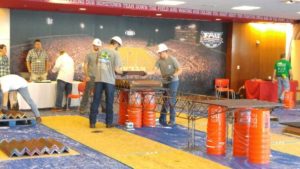 We have also made presentations to engineering students eager to learn about professional licensure at the University of Florida and the University of Central Florida. We typically speak to students nearing graduation; however, the classes at UCF are all freshmen, and there are are about 1,000 of them in attendance. That's a lot of students hoping to become engineers!
Another event we regularly attend is the state MathCounts Competition sponsored by the Florida Engineering Society. This is such a great event, and it's such a pleasure to see so many middle schoolers who are excited about math. These young people truly love working math problems and look forward to the challenge of competition. We hope to see some future engineers come from that group of boys and girls.
I have one last thing I would like to mention. I encourage everyone to get out to see the DREAM BIG movie, now playing in IMAX and giant screen theaters.  Some of our staff was able to view this incredible film, and all we could say was "Wow!"  It is a short film (approximately 42 minutes) but is packed full of amazing stories about engineering. Parade Magazine quotes, "A fresh perspective on what it means to be an engineer." Take your young children and teenagers to it – they will be inspired. To learn more about the movie and its locations, go to: http://www.dreambigfilm.com/.