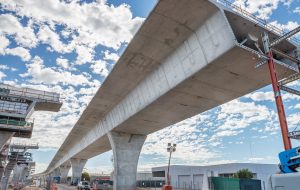 BY ANTHONY J. FIORILLO, PE, SI, CGC, FBPE CHAIR (2017)
Welcome to summer! We are already at the midpoint of the year. I can't believe how fast this year is moving along! I suppose that means everyone is busy and having a great time!
As I drive throughout the state, I see construction activity everywhere. According to Wells Fargo and the U.S. Department of Labor, Florida added 29,600 jobs in May, which was the largest gain of any state. Employment rose in 59 of Florida's 67 counties in 2016, with Orange County posting the largest gain.  With this job growth, the state's unemployment rate has dropped to 4.3 percent, its lowest since 2007.
These jobs create a tax basis for the state government to fund public projects. In June, Gov. Scott celebrated the kickoff of construction for the new Pensacola Bay Bridge, the largest transportation infrastructure project in Northwest Florida. The State of Florida is investing $398.5 million in the new bridge. The project's design-build contractor, Skanska US Civil Southeast Inc., estimates they will directly employ more than 500 workers to construct the bridge.
With its abundance of sunshine and beautiful beaches, Florida continues to lead the nation in attracting new residents from other states and countries. The net population gain was over 325,000 new residents. Though Florida has a stigma of having an older population, births outpace deaths with a net gain of over 21,000 residents.
Population growth is an economic driver, as a growing population needs new housing, shopping centers, roads, schools, offices, healthcare, etc. This bodes well for the engineering community! Hopefully, this article does not trigger the next great recession!
I will be attending the FES/FICE annual conference at The Breakers in Palm Beach, Aug. 2 through Aug. 5.  I hope to see you there.
All the best,
Tony