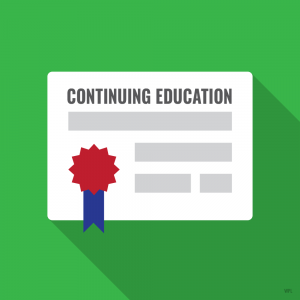 BY SCOTT R. DRURY, PE, FBPE MEMBER
It's about that time again… when approximately 41,000 licensed Professional Engineers in Florida will be completing their 18 required continuing education hours (CEHs) in order to renew their licenses. These CEHs are mandated under Rule 61G15-22.001, Florida Administrative Code, Continuing Education Requirements.
Out of these 18 CEHs, two must be obtained through providers approved by the Florida Board of Professional Engineers:
One hour relating to Florida laws and rules of the Board (Chapter 471, Florida Statutes, and Chapter 61G15, F.A.C.); and
One hour relating to professional ethics.
According to Rule 61G15-22.003(2), F.A.C., Qualifying Activities for Area of Practice Requirement, CEHs obtained through courses, tutorials, webinars, or distance learning, offered through various delivery methods such as live, correspondence, recorded, Internet-based, or through attending seminars (including in-house engineering seminars), workshops, or professional and technical seminars at meetings, conventions, and conferences must be presented/sponsored by a provider or vendor with specific knowledge related to the licensee's area of practice approved under Rule 61G15-22.011, F.A.C., Board Approval of Continuing Education Providers.
But Rule 61G15-22.001 requires that CEHs satisfying the requirements for Florida laws and rules and for professional ethics must be from Board-approved providers. Rule 61G15-22.011 lists the various ways for a person or organization to become a Board-approved continuing education provider.
Rule 61G15-22.012, F.A.C., Obligations of Continuing Education Providers, outlines the various requirements for these providers to maintain their Board-approved status as a CE provider. These requirements include (with emphasis added):
Provide courses or seminars that enhance the education of engineers in the practice of engineering;
Require each licensee to complete the entire course or seminar in order to receive a certificate of completion;
Furnish each participant with an individual certificate of attendance;
Maintain an attendance record for four years, which is available for inspection by the Board and the Florida Engineers Management Corporation;
Ensure their Board-approved provider number is listed on all promotional materials for courses and seminars offered to Professional Engineers;
Allow only one CEH per one hour of instruction, being a minimum of 50 minutes of instruction or presentation;
Allow only one CEH per one hour of correspondence study, based on the average completion time of the course as established by the provider;
Provide a written examination to each participating licensee in correspondence study, and ensure the licensee signs and dates the examination and receives a minimum grade of 70 percent;
Notify the Board within 14 days of any change in address or telephone number of the provider;
Allow designees from FBPE and FEMC to have access to information concerning courses or seminars conducted by the CE provider; and
Make sufficient course information available to potential participants to allow a participant to clearly understand the course content, learning objectives and outcomes, and level of difficulty prior to enrolling in the course.
Providers should also note that, according to Rule 61G15-22.013, F.A.C., Evaluation of Providers, the Board or its designee may evaluate CE courses or seminars offered to engineers for credit through either observation or reviewing the files of the provider to gain any information about these courses.
So, there are four questions that may be asked:
How does a licensee know or ensure the CEHs are by a Board-approved provider?

The promotional material for the course or seminar must include the Board-approved provider number and sufficiently outline the course content, learning objectives, and level of difficulty.

Are the four CEHs relating to my area of practice, and the other 12 hours relating to any topic pertinent to the practice of engineering required to be from a Board-approved provider?

No. However, the four CEHs must related to areas of practice in the PE exam offered by NCEES as defined in Rule 61G15-22.022(1), F.A.C.; and the 12 CEHs must relate to any topic pertinent to the practice of engineering as defined in Rule 61G15-22.002(8), F.A.C.

I have already taken a professional ethics course from a provider who is not a Florida Board-approved provider. Will this be acceptable to meet the professional ethics requirement?

No. It has been the Board's intent for this rule to require the professional ethics course to be administered by an FBPE-approved provider. Unfortunately, the language of the rule was not clear during previous renewal periods, which is why the Board previously accepted any professional ethics course. The Board's intent was clarified in an amendment to Rule 61G15-22.001(1), F.A.C., which took effect on Aug. 1, 2018, and applies to the upcoming renewal period. Therefore, all licensees must comply with the current adopted rule, which requires the professional ethics course to be from a Florida Board-approved provider.

What are the obligations of a Board-approved provider?

A Board-approved CE provider needs to comply with all requirements set forth in Rules 61G15-22.012 and 61G15-22.013, F.A.C. If the CE provider offers courses in professional ethics or in laws and rules, then the provider must also comply with the requirements set forth in Rule 61G15-22.0105, F.A.C.
Remember, Professional Engineers must complete their 18 hours of continuing education by Feb. 28, 2019, in order to renew their license.
Also, as a reminder to CE providers, please reference Rule 61G15-22.014, F.A.C., Duration of Provider Status. Status as a Board-approved provider is only approved for the biennium in which applied. Providers must reapply for approved status 90 days before the start of the biennium for continuing education providers, which begins June 1 of each odd-numbered year. This means to prevent a lapse in provider status, reapplications must be received by March 1, 2019.
If you have any questions concerning continuing education or Board-approved providers, please contact FBPE's licensure department at (850) 521-0500, or email board@fbpe.org. Current versions of Florida's laws and rules as they relate to the practice of engineering are available on Legal section of the FBPE website.
About the Author
Scott R. Drury, PE, is a licensed Professional Engineer in Florida with expertise in both mechanical and fire protection engineering, and is a certified Commissioning Authority (CxA), Certified Firestop Inspector, and LEED Accredited Professional (LEED AP BD+C). He is a principal for H2Engineering Inc. with offices in Tallahassee and Gainesville. He began serving on the Board in February 2018 and is currently its vice chair.