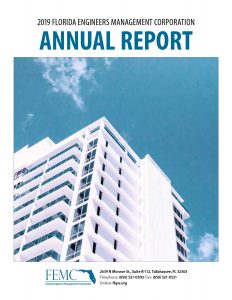 The Florida Engineers Management Corporation produces an annual report as required by Section 471.038, Florida Statutes.
The report is submitted to the Secretary of the Department of Business and Professional Regulation, the Florida Board of Professional Engineers, and the Florida Legislature by Oct. 1 each year. It reports on the status of the corporation, including information concerning FEMC programs and funding, as well as information regarding licenses and complaints handled by FEMC.
A copy of the 2019 FEMC Annual Report is available for download on the Annual Reports page of the Corporate section of the FBPE website.
Below are some highlights from the Annual Report for Fiscal Year 2018-19 (July 1, 2018-June 30, 2019):
50 – Number of FBPE Board, FEMC Directors, and committee meetings administered
40,444 – Average number of licensees and others receiving FBPE's Connection newsletter each quarter
1,689,924 – Number of pageviews of the FBPE website
2,100 – Number of engineering students reached by 14 outreach visits to universities to discuss engineering exams and licensure
Licensure Statistics
36,526 – Number of PE licenses renewed
5,729 – Number of Certificates of Authorization* renewed
6,136 – New applications received for licensure
3,728 – Applications for licensure approved
1,387 – Examinees passed the Fundamentals of Engineering (FE) exam
1,169 – Applications approved for the Principals & Practice of Engineering (PE) exam
589 – Certificates of Authorization* issued for firms to provide engineering services in Florida
672 – Certifications of Threshold Special Inspectors issued
54 – Days to issue a license on average.
Legal Statistics
195 – Complaints regarding engineering practices received, of which 140 were found to be legally sufficient
$104,528.60 – Fines and Costs imposed
30 – Administrative Complaints filed in cases where the Probable Cause Panel found reason to believe a violation of the Florida Engineering Practice Act had occurred
92 – Final Orders issued against Professional Engineers
16 – Cases dismissed with a finding of No Probable Cause
13 – Cases dismissed with a Letter of Guidance
4 – Licenses revoked
6 – Licenses suspended
1 – License restricted
1 – License voluntarily changed to inactive
8 – Reprimands issued
4 – Probations issued
4 – Project reviews
6 – Engineers ordered to successfully complete course in Engineering Professionalism and Ethics
6 – Engineers ordered to successfully complete the Board's Study Guide on Laws and Rules
4 – Voluntary Licensure Relinquishments
In addition to FEMC Annual Reports, copies of FEMC's Quarterly Reports are also available online.
* Certificates of Authorization were replaced with a registry of Qualified Business Organizations. For more information, please see the Engineering Firms page.