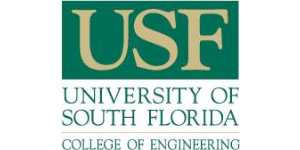 The University of South Florida System is a high-impact, global research system dedicated to student success. The USF System includes three institutions: USF; USF St. Petersburg; and USF Sarasota-Manatee. The institutions are separately accredited by the Commission on Colleges of the Southern Association of Colleges and Schools. All institutions have distinct missions and their own detailed strategic plans. Serving over 49,000 students, the USF System has an annual budget of $1.6 billion and an annual economic impact of $4.4 billion. USF is a member of the American Athletic Conference.
The College of Engineering at the University of South Florida comprises seven departments, serving nearly 7,000 students, and offers ABET-accredited undergraduate degrees in seven programs, as well as 13 master's and nine doctoral degrees. The College has 11 major research centers and institutes, and is actively engaged in local and global research activities focusing on sustainability, biomedical engineering, computing technology, and transportation. For the fiscal year 2015-2016, the College had $33 million in research expenditures as reported to ASEE.
For more information about the USF College of Engineering, visit usf.edu/engineering/.