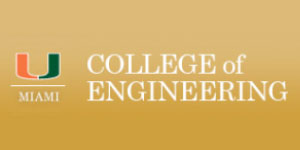 The University of Miami College of Engineering is located on the UM Coral Gables, Fla., campus, a 230-acre suburban tract just minutes from downtown Miami. The College is housed in the McArthur Engineering building, a 120,000-square-foot complex with state-of-the-art laboratories and facilities, which is comprised of five departments that offer B.S., M.S., Ph.D., and executive education programs in Biomedical Engineering; Civil, Architectural, and Environmental Engineering; Electrical and Computer Engineering; Mechanical and Aerospace Engineering; and Industrial Engineering.
Accredited by the Southern Association of Colleges and School, UM has 12 academic units. Founded in 1947, the College of Engineering is recognized for the quality and diversity of its faculty, students, and curricula, and noted for educating tomorrow's technology leaders for career success.
More information about the University of Miami's College of Engineering can be found by going to its website.